Tech Tips
Submitting Files :  FTP Upload Services
Submitting files for printing
Accepted file formats: Files must be saved as uncompressed RGB 8 bit TIFF or JPEG and must be flattened without any channels, paths or layers.
Accepted file names:File names can only contain a hyphen or underscore ( – or _ ). No other non-alphanumeric characters are acceptable. File names must have the appropriate .tif or .jpg extension. Please keep the file names as simple as possible.
Image Cleaning: If you are submitting your own files for printing, we recommend cleaning them at 150% or more. Reprinting of your image due to missed dirt, artifacts or digital noise are done at regular print prices.
Aspect Ratio: The aspect ratio of your image should match the print size to avoid cropping. Example- the aspect ratio of a 35mm film is 2 to 3 and equal to a 4×6, 5×7.5, 8×12 11×16.5, 16×24, 20×30 and 30×45 print. Check your digital camera manual for the aspect ratio of your images.
Color Spaces: We recommend embedding the Adobe 98 color space, for Chromira prints, and sRGB for Frontier prints. Images that we've scanned and burned to CD are Print Ready for future reprints. If you are opening them in Photoshop to perform your own changes, be careful not to convert to a different color space. This can cause unpredictable color shifts on your reprints. Files that we receive that do not have an embedded color space will be assigned sRGB for printing purpose.
File Sizes: If your files are smaller than the recommended size, we suggest that you let us use our printer RIP software to resize the image for printing. This method and our software will produce the best possible results. Recomended file sizes are listed below.
The chart below list other requirements for "print ready" files.
File Recommendations for Scanned Images
Print Device:
Color Space:
Embedded Profile Required:
Preferable Color Space:
File Format:
File Size:
Maximum Print Size:
Chromira Printer
RGB8 BIT24 Color
YES
sRGB Adobe 1998 or Digital Attributes 24
TIFF
& JPEG
200-300 dpi at 100% print size
30" bylet fall
Frontier Printer
RGB8 BIT24 Color
NO
sRGB
TIFF
& JPEG
200-300 dpi at 100% print size
See pricesheet for standard sizes
Giclee Printer
RGB8 BIT24 Color
YES
Adobe 1998 or Digital Attributes 24
TIFF
200-300 dpi at 100% print size
40" bylet fall
Digital Transparency
RGB8 BIT24 Color
NO
NA
TIFF, JPEG, & PowerPoint
10 to 35 Meg
35mm slide
FTP Uploading Instructions
FTP stands for File Transfer Protocol. Uploding files to the Denver Digital Imaging Center FTP server is a fast and easy method of submitting your files for printing. This method requires access to the internet. A Cable or DSL connection is recommended to increase the transfer rate. We also suggest using an FTP software such as FileZilla https://filezilla-project.org/download.php?show_all=1 . FTP client software allows you to transfer files between your hard drive and a remote server. Both programs work very well and FileZilla is a Freeware program. File transfer is possible using Internet Explorer, however at this time, we do not recommend it for larger files.
Clients using this service receive a login ID and password. Contact our Customer Service Department via email or phone to setup your personalized account. When using our FTP Service, after you have uploaded your files, email or call Customer Service to place your order after you have uploaded your files.
If you are using FileZilla, the login menu looks like this:

To logon, type in the following information. Click on Quickconnect or press Enter to connect to the server.
| | |
| --- | --- |
| Address | ftp.theslideprinter.com |
| User | Your personal User ID |
| Password | Your personal Password |
| Port | 21 |
Once connected, you will see a window that looks similar to the one below: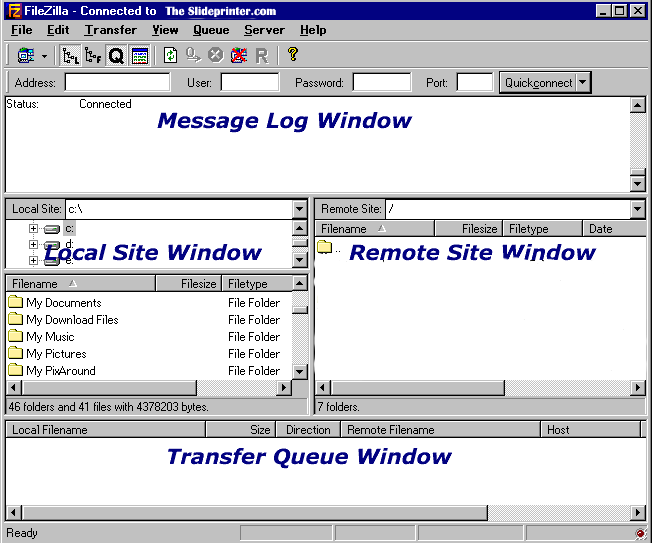 The Local Site Window is your computer, the Remote Site Window is our server and the Transfer Queue Window shows the progress of the files being transferred.
Navigating on the server
After a successful connection, a list of files and folders appears on the right side of the main window. The current folder is listed in the edit field on the top. You can change the current folder by double-clicking a folder. You may also right-click the file and folder list and select Open from the context menu to change the current folder. You will notice a folder called ".." displayed in all directories. This folder allows you to go up to the parent directory of the current folder
Navigating your computer and uploading
You can upload or download a file by double-clicking on them. It will be added to the transfer queue and the transfer starts automatically.
To transfer folders and/or multiple files, select them and right-click the selection. Then you can click on "Upload/Download" in the pop-up menu. You can also drag the files from one side and drop them on the other side.
To add files to the queue so that they will be transferred later, select them and click "add to Queue" from the pop-up menu. You may also drag the files directly into the queue. Click on the button on the toolbar to start the transfer.
For more information, click on the the Help menu